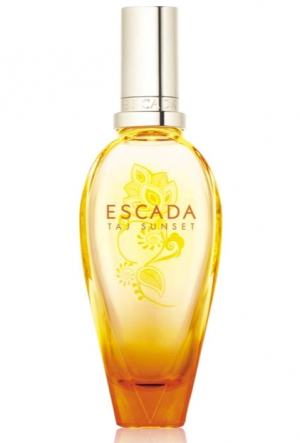 A few weeks ago, I ordered a sample of Escada's fragrance, Taj Sunset. It came in today and I applied it around 12:45. I am marking off in times because the most common complaint about the EDT is the wear time (or lack thereof). Upon the first moment of application, I smelled what seemed like a mixture of blood orange and generic fruit smell in a heavy corn syrup.
I've always found it ironic how summer scents are so often fruit or flower based, when bees and mosquitos are a pain enough without them being attracted to a scent like such.
Around 1:00, the alcohol had dried and the scent had calmed down but there was still that saccharine syrup smell. By 3:00 it was barely detectable, to the point I couldn't place any certain note. 3:45 and the scent was completely gone. Between the syrupy smell and the short length of wear, I would never buy this perfume; I'm not sure I would even wear it if it were given to me. Make no mistake, this is a young scent but should we really be encouraging this bad habit of disgustingly sweet perfumes?